| | | |
| --- | --- | --- |
| | Categories | |
| | | |
| --- | --- | --- |
| | Manufacturers | |
| | | |
| --- | --- | --- |
| | Information | |
Lewitt DGT650 USB mikrofon

10A03F65 | DGT650




6.119,00NOK

The price includes 25% Danish VAT




In stock
Delivery time: 1 - 3 workdays.

This article is in stock, but not in our shop.
You are welcome to write in the comment field that you want to pick up the article yourself. We will contact you when the article is ready for collection in our shop.
Shipment charges are deducted when you collect the article in our shop.

Lewitt DGT650 USB mikrofon
LEWITT DGT650 er en stereo USB-optagelsesløsning og interface til PC, MAC og iOS-enheder i en pakke. Den tilbyder fire opagelsestilstande: XY Stereo, Vocal & Instruments (nyremønster), Singer-Songwriter som kombinerer en akustisk og en line-source, f.eks. vokal og guitar, som er optaget på separate spor og Stereo Line In (Opfanger et line-signal f.eks. en synthesizer eller et mixer-boards stereo-output. MIDI-input er også tilgængeligt i alle fire tilstande. DGT650 tilbyder asynkron USB-overførsel, understøttelse til OS X Core Audio og ASIO til Windows. Den gør det også muligt at cross-fade mellem zero-latency direct og minimum-latency tape-return monitoring og en indbygget højimpedans-forstærker til studio-hovedtelefoner i en enhed.
Type: Condenser, permanently polarized, XY-stereo
Acoustical operating principle: Pressure gradient transducer
Transducer Ø: 2 x 17 mm, 2 x 0.67 in
Polar pattern: cardioid, XY-stereo
Frequency range: 20 ... 20,000 Hz
Dynamic range: 110 dB (A)
Pre-attenuation pad: 0 dB, -10 dB, -20 dB
Low-cut filter: linear 80 Hz (12 dB/oct), 160 Hz (12 dB/oct)
Microphone dimensions: 138 x 52 x 36 mm / 5.43 x 2.04 x 1.42 in
Microphone net weight: 310 g, 10.9 oz
Breakout box dimensions: 54 x 50 x 32 mm / 2.13 x 1.96 x 1.26 in
Mic enclosure: Zinc die cast
Resolution: 24 Bit
Sample rate: 44.1 kHz, 48 kHz, 88.2 kHz, 96 kHz
Recording modes: X/Y stereo/Cardioid/Cardioid+Line-in/Stereo line-in
Analog gain range: 0 ... 40 dB
Supply voltage: Micro-USB high-power device, 5V (+/- 5%) V +/- 4 V
Internal battery: Li-ion, 950 mAh, 3.7 V
DGT 50 Li: Apple Lightning to 18-pin lockable hi-speed connector
DGT 50 USB: USB to 18-pin lockable hi-speed connector
DGT 50 Tr: 18-pin to 18-pin
MIDI: Analogue MIDI connector
Line in: 6.3 mm, 1/4 inch TRS phone jack (2 channels)
Input impedance: > 1 Meg Ω
Full scale input voltage: 8 dBu
Input dynamic range: ≥ 110 dB (A)
Frequency response: 20 ... 20,000 Hz
Headphone output power: 40 mW at 16 Ω, THD+N < 0,5%, 20 mW at 32 Ω, THD+N < 0,5%
Frequency response: 30 ... 20,000 Hz
Headphone volume control: - 60 dB ... 0 dB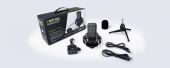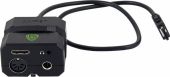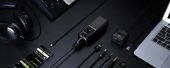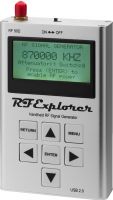 RF signal generator, 23.4-6,000 MHz RF-GENERATOR1
3.899,00NOK
3.289,00NOK



Yamaha APXT2 BLACK ELECTRIC ACOUSTIC GUITA (BLACK)
3.189,00NOK
2.249,00NOK

| | | |
| --- | --- | --- |
| | Languages | |
| | | |
| --- | --- | --- |
| | Currencies | |