| | | |
| --- | --- | --- |
| | Categories | |
| | | |
| --- | --- | --- |
| | Manufacturers | |
| | | |
| --- | --- | --- |
| | Information | |
Kingston 2 GB ( 2 x 1 GB ), DIMM 184-pin, 400 MHz, ECC

1138422 | KTA-G5400E/2G




5.339,00NOK

871,00NOK

The price includes 25% Danish VAT




In stock in our shop

Delivery time: 1 workday when ordered before 15.00.


All Kingston┬« memory modules must perform properly to ensure maximum performance. Therefore, Kingston has developed an industry leading quality process to ensure that Kingston memory delivers superior quality, performance, and 100% compatibility with the computing system the module is designed for. Kingston, the world's largest independent memory manufacturer, has over 2, 000 memory products. In ... More »today's performance-driven environment, memory upgrades provide an easy, economical alternative to increase system performance. Every memory product Kingston offers is designed to help you get maximum performance at the best price to you.

This memory is designed for for Apple Xserve G5. « Less


Internal memory
2048 MB
Internal memory type
DDR-SDRAM
Form factor
DIMM 184-pin
Bus clock rate
400 MHz
ECC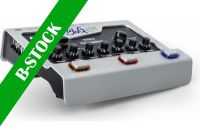 BluGuitar AMP1 Mercury Edition, 4 channel 100w guitar head with bui "B-STOCK"
10.779,00NOK
8.291,00NOK



BUV60TL UV-set 60cm Holder and Tube
389,00NOK
455,00NOK

| | | |
| --- | --- | --- |
| | Languages | |
| | | |
| --- | --- | --- |
| | Currencies | |