| | | |
| --- | --- | --- |
| | Categories | |
| | | |
| --- | --- | --- |
| | Manufacturers | |


Whirlwind 3-in-1 LED Effect DMX
1.959,00NOK
1.823,00NOK

| | | |
| --- | --- | --- |
| | Information | |
STA-600

250460 | STA-600




3.566,00NOK

The price includes 25% Danish VAT




Delivery time: 4-8 workdays.

Professional stereo PA amplifier, with integrated crossover network and limiter. STA-1400, STA-1000 and STA-600 are supplied with 3-pin IEC panel plugs and matching mains cables. Beat 01/2012. "Two MEGA-112 as top parts as well as one MEGA-118SUB were brought to the test. We used the power amplifiers STA-600 and STA-1400 for the top parts in bi-amping and the STA-1000 for the bass reproduction. For the functional control, we applied the digital speaker management DSM-260. The units were tested in a small factory building. it featured many windows, a concrete floor and several tiled surfaces, allowing the high frequencies to show no mercy. however, with the precise equalizers of the DSM-260, we were able to tame these very quickly. the unit allows to optimise the sound quickly and intuitively. we turned the volume up and achieved an impressive performance. The subwoofer is very stable and provides a really powerful sound. The MEGA-112 impresses by a really well-balanced sound. Full and dynamic dance music with a really great sound can thus be achieved. This PA system is able to easily provide a professional sound for 400 guests, even for the more sophisticated listener. Thumbs up. The selected PA combination is very suitable for everyone performing at temporary locations."
LCD for indicating temperature, operating mode, protective function
Integrated crossover network: 120 Hz, 24 dB/oct., selectable: subwoofer, full range or satellite operation
3 operating modes can be selected (stereo, parallel or bridged)
Temperature-controlled fans
2 level controls
Ground lift function
Speaker switch-on delay
Protective circuit with LED indication for protection against short circuit, overheating and DC voltage overlay at the outputs
Each channel with LEDs for indicating operating voltage, level and limiter
NEUTRIK SPEAKON connections
| | |
| --- | --- |
| Channels | 2 |
| Zones | - |
| Power rating | 600 W |
| Power rating at 2 Ω | - |
| Power rating at 4 Ω | 2 x 300 W |
| Power rating at 8 Ω | 2 x 200 W |
| Power rating at 100 V | - |
| Power rating with 4 Ω bridged operation | - |
| Power rating with 8 Ω bridged operation | 1 x 550 W |
| Peak music power output (PMAX) | 1000 W |
| Output impedance | - |
| Inputs | 1 V/20 kΩ |
| Attenuation factor | - |
| Frequency range | 20-20,000 Hz |
| Crossover network | 24 db/Okt. |
| Crossover frequency | 120 Hz |
| Integrated limiter | yes |
| Equalizer bass | - |
| Equalizer midrange | - |
| Equalizer treble | - |
| S/N ratio | >95 dB |
| Crosstalk attenuation | >60 dB |
| THD | <0,1% |
| Power supply | ~ 230 V/50 Hz/1,000 VA |
| Mains voltage | ~230 V |
| Mains frequency | 50 Hz |
| Power consumption, operation | 1000 VA |
| Power consumption, standby | - |
| Standby current | - |
| Alternative operating voltage | - |
| Alternative power supply | - |
| Admiss. ambient temp. | 0-40 °C |
| Dimensions | 482 x 88 x 418 mm, 2 RS |
| Width | 482 mm |
| Height | 88 mm |
| Depth | 418 mm |
| Rack spaces, RS | 2 |
| Weight | 12,5 kg |
| Connections | 1 x 3-pole XLR L/R, bal. 1 x 6.3 mm jack L/R, bal. 1 x NEUTRIK SPEAKON L/R 2 x pair of screw terminals |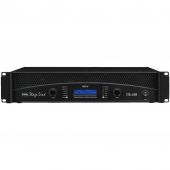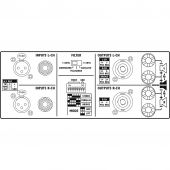 | | | |
| --- | --- | --- |
| | ACCESSORIES | |


Nedis Washing Machine Drip Tray | 70 x 70 x 10 cm | White, WADT110AT70
349,00NOK
299,00NOK


Titania Double Laser 200mW RG Gobo IRC
879,00NOK
856,00NOK

| | | |
| --- | --- | --- |
| | Languages | |
| | | |
| --- | --- | --- |
| | Currencies | |